Building a Better Future
At SUNY Cobleskill, we aim for sustainability in all that we do. From teaching evidence-based approaches to environmental stewardship and researching next-gen clean energy technology to installing green roofs and practicing energy reduction, we ensure that we are all working together to leave a better world for those who come after us.
Sustainability Events
The 7th Generation Centennial Lecture Series
free & open to the public in Bouck Auditorium
Student Chapter of the Wildlife Society Meetings
Thursdays, 12:15pm in Warner 120
A Message from the Provost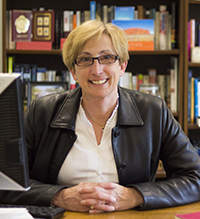 Each of us has an important role to play, as stewards not only of the campus—its facilities, acres of farm and pasture land, and programs—but also of the local and global communities in which we live and work. I invite you to lend your support to the many initiatives on campus; together, we can build upon and strengthen our commitment to sustainable practices.

SUNY Cobleskill has been recognized for its ongoing commitment to sustainability, named among Princeton Reviews "286 Greenest Colleges." Great attention has been paid to the construction of LEED certifiable academic buildings; to the reduction of energy use and its associated costs; and to the creation of academic courses, programs, and experiences that emphasize sustainable practices. Daily, members of the campus community are involved in activities that support and promote sustainability – whether it is through teaching, club advisement, internship supervision, committee service, food preparation, waste management, or facilities maintenance. The links provided on this page highlight many of these efforts, and provide a great starting point for future conversations and campus initiatives.



Susan Zimmermann
Provost and Vice President for Academic Affairs