The Cobleskill Campus Child Care Center is a developmentally based program designed to enhance the physical, intellectual, social, and emotional development of young children. The Center provides child care to SUNY Cobleskill students, staff, and faculty, as well as community members. Interactions and activities are created to develop children's self-esteem and positive feelings toward learning, all in an environment that is stimulating and challenging.
Parents are always welcome and are encouraged to visit the Center to observe/participate in the program or communicate with the staff, who always do their best to ensure that your family's experiences at the Campus Child Care Center are happy, healthy and educational.
Fast Facts
Operating Hours 7am – 5:30pm.
Located at 189 West Main Street, Cobleskill NY – on the SUNY Cobleskill Campus
Serves children ages 6 weeks - 12 years
Tuition assistance is available to eligible families.
A healthy breakfast, lunch and afternoon snack are prepared on premises.
Staff includes master teachers, teachers and assistant teachers with Early Childhood Degrees
State-of-the-art facilities include: 6 classrooms, 2 large playgrounds, kitchen, large indoor gym, parent resources and observation booths for all classrooms
Waiting List and Enrollment Priorities
Once your application is received at the Center your child(ren) will be put on our waiting list based on enrollment priorities and we will contact you to let you know the approximate wait time, if any.

SUNY Cobleskill Students, SUNY Students, SUNY Cobleskill Faculty/Staff and Employees from any NYS Agency

Community Residents (Full time care needs take priority over part time needs.)
How to Enroll
Please call Jen Frost at 518-255-5854 or send an email to childcare@cobleskill.edu.
Refund Disclaimer

In order to receive a refund, parents must specifically request a refund from either the Director or Administrative manager.
Refunds will be given for overpayment
Refund of deposit will be given when a child is officially withdrawn from our program (see child care contract for details).
---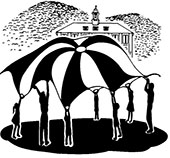 The Cobleskill Campus Child Care Center is licensed by
the NYS Office of Children and Family Services