Energy starts where you live.
The campus has continual energy monitoring in place or mid-installation (depending on building) in Dix, Draper, Pearson, Fake, Ten Eyck, Davis, Parsons, and Porter for electrical consumption. This is in addition to the electrical energy monitoring at the substation for the campus. The campus is also installing continual Steam use monitors in Dix, Draper, and Pearson. Measurement is key to management.
While you are away from the campus, the work goes keep going.
As some of you may be aware the campus has used fall break, winter break and spring break as energy conservation periods. The campus has received similar results in energy savings to other campuses engaging in this same practice - where data from those campuses is available.
Are we staying green and warm?\
The campus has emissions monitoring on each of the large, primary boilers in the central boiler room. This monitoring is used by each of the boiler controls to "tweak" the fuel air mixture for a more efficient use of energy. Also in the central boiler room, the campus is in the process of enabling intelligent boiler controls which will run the boilers in accordance with predetermined efficiency and need calculations.
What's going on outside?\
There is a Photovoltaic field downhill from the CEST building, as well as two other smaller targeted solar arrays in the works. SUNY Cobleskill is also an active part of a collaborative effort to bring cost-effective renewable energy alternatives to colleges throughout New York State.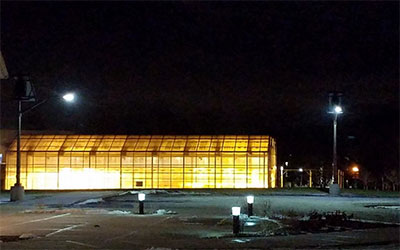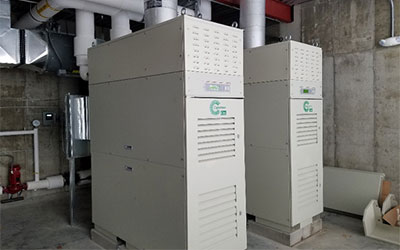 Targeted off-grid solar lighting
All of the lights in the foreground are off-grid solar lights, consuming no electricity from the grid and no monthly charges from the electric company.
Natural Gas Combined Heat and Power Turbines
The campus is using energy technologies to create synergistic advantages providing you the most value for every dollar you spend. We now have two 65Kw natural gas turbines heating the Swimming Pool building. These turbines provide the necessary heat for the building and pool, but before just burning the natural gas for heat, we harvest the gas's burning expansion rate in kinetic energy that we turn into 130kw each hour, using the same gas twice.
What's new inside?
The HVAC shop has a practice of replacing failed fan motors with a new model of most efficient motor available for the application. Bringing fresh air into our buildings and stale air out is becoming a greener and leaner practice.
Your participation is welcomed.
The campus is asking its Facility, Staff and Students on a proactive user-end greening effort. In an effort reduce our consumption, free to turn it "off." Unnecessary and under-used lights, computers and peripherals to be turned "off," placed in sleep mode, or turned down by the last user or anyone one who observes it as unnecessarily "on."
---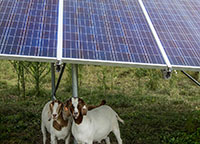 The Center for Environmental Technologies (CEST) is promoting solar energy for residents of Schoharie County. Solar power is produced without any production of carbon dioxide, making it environmentally friendly energy. Learn more about Schoharie Solar >