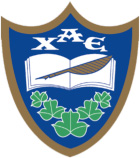 Founded at West Chester University of Pennsylvania, Chi Alpha Epsilon was organized in 1990 in response to an increasing need to acknowledge the continuing successes of students in the university's Academic Development Program.
Chi Alpha Epsilon was formed to recognize the academic achievements of students admitted to colleges and universities through non-traditional criteria who utilize developmental education support services. Its purpose is to promote continued high academic standards, foster increased communication among its members, and honor academic excellence of those students admitted to college via developmental program pathways. The involvement of eligible alumni further enables networking for members. Programs sponsored by the society encourage other student's academic accomplishment.
Students who hold a 3.0 cumulative GPA for two consecutive full-time semesters and who were admitted to college via developmental or Higher Education Opportunity type programs are eligible for membership.