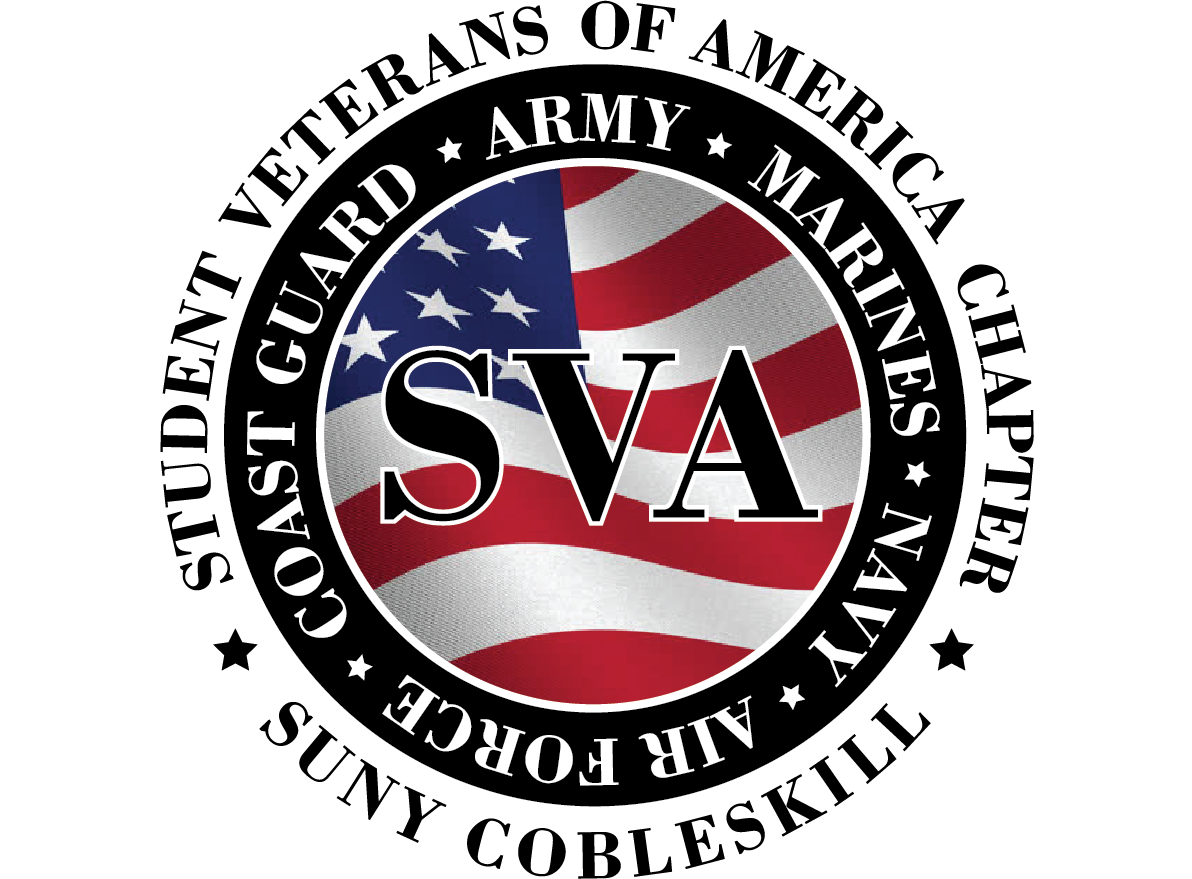 The SUNY Cobleskill Student Veteran Association is a student-run organization that is an official chapter of the Student Veterans of America (SVA). Composed of Veterans, Active Duty and Reserve Service Members, National Guard, Dependents, and Advocates; we are on duty and standing watch for all of our brothers and sisters who serve are have served our great country.
Meetings are Tuesdays at 12:30 in the SVRC
Come meet some like-minded folks, help us steer the ship, and have some fun!
Our Mission
SUNY Cobleskill's Veterans Association is a comradery of veterans, veteran/military dependents, military affiliates, and civilian supporters that strive to provide support for student veterans and military affiliates, raise public awareness on veteran and military affiliate programs, and provide organization for student veterans and military affiliates to feel welcomed and receive the help they need to become successful students.
What We Do
SUPPORT OUR STUDENTS
Provide an organization in which student Veterans and Military Affiliates can feel welcome and receive the help that is needed to assist with transitioning to and becoming a more successful student. We have one another's backs.
CAMMARDERIE AND FUN
As a social student club, we create opportunities for support through fellowship(s.) Just like when we were/are on the job, we all realize the benefits of letting off some steam.
CONNECTING THE DOTS
Raise awareness and provide information about programs which are available to help our veterans.
TELL OUR STORY
Raise public awareness of Veterans' & Military Affiliates' experiences and Veterans' programs. Make sure that our services continue to improve, and don't lose sight of their charge.
DEVELOP SUSTAINABLE SUPPORT
Through an ongoing and enduring culture of service, create and sustain efforts to assist Veterans and Military Affiliates and veterans' programs. Community service, fundraising, and helping the downtrodden is how we roll.
Who We Are
President: Samuel Collischonn (USMC)
Vice President: Garrett Warner (USMC)
Treasurer: Tyler Paust (Army)
Assistant Treasurer: YouShan Li (USMC)
Secretary: Sarah Cole (Army)
Advisors: Christina Poor (Army), Donna Pesta