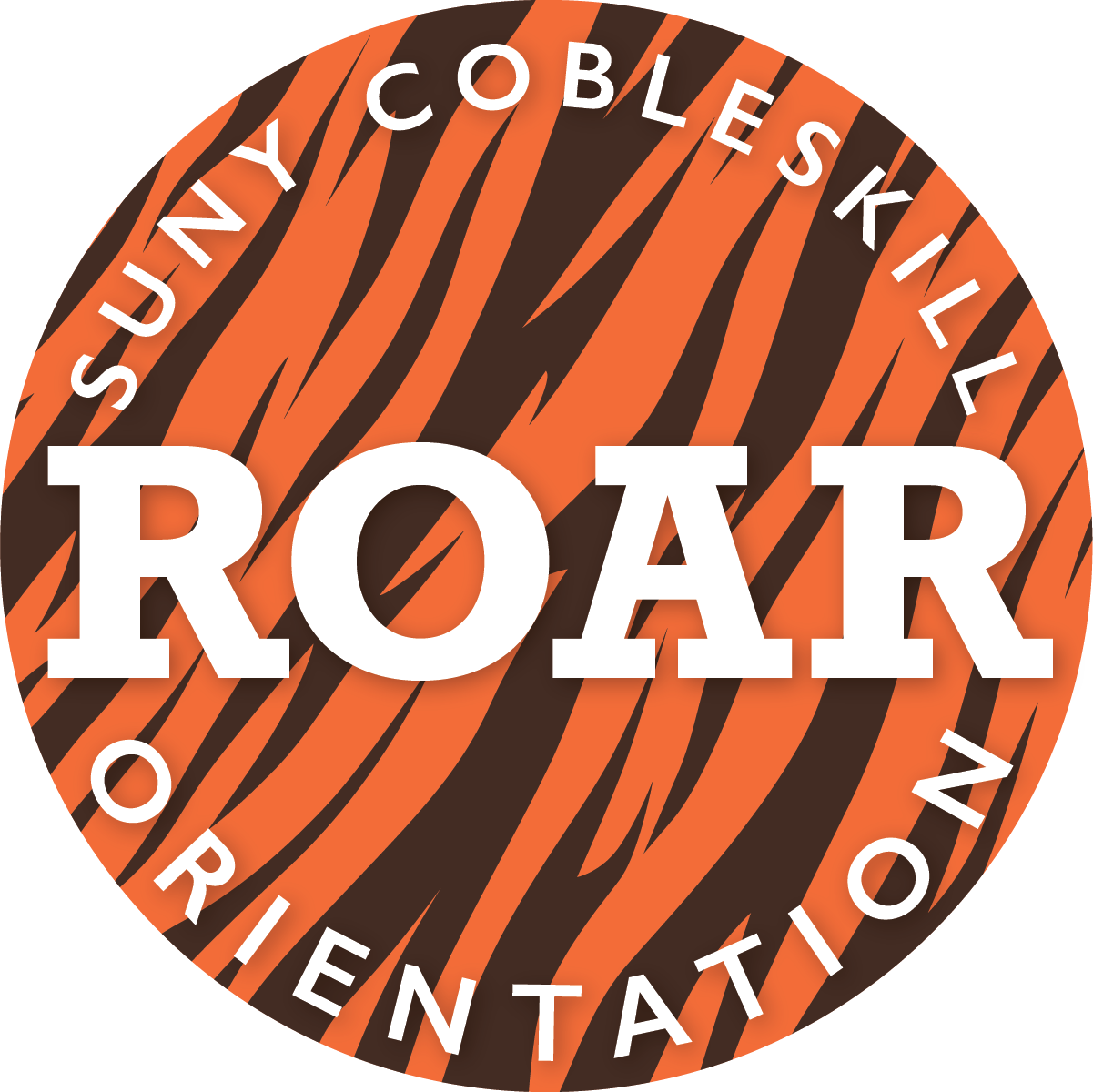 Welcome to the Coby Family
We look forward to meeting you!
Our Summer Orientation Sessions have now concluded; however, we do have two alternative options for those who were unable to attend a Summer Orientation Session:
1.) A "One Day" Session hosted during Welcome Weekend - This in-person experience takes place over the course of a day and focuses on primary tasks that should be completed. The date for this session will be confirmed soon.
2.) An "Online" Session - This is a fully virtual experience offered through Brightspace, our main online educational platform.
Attending orientation is required for all First Year and Transfer students. We ask that you please email us at Orientation@Cobleskill.edu to sign up for one of the options mentioned above.
What is Orientation?
Orientation is a way for new students to learn about SUNY Cobleskill's campus and the services we offer through specifically designed program sessions. Orientation is an opportunity for new students to ask questions about their academic, co-curricular experience, and to become active, engaged members of the Coby Community.
Orientation Leaders:
Orientation Leaders are current SUNY Cobleskill students, who lead orientation sessions, interact with the new students, and provide a upbeat and exciting orientation experience. New students will be connected to an Orientation Leader and a Coby Connector (professional staff mentor) to ensure that their transition into SUNY Cobleskill is seamless.
Meet the Orientation Leaders:
Jahmar
Pronouns - He/him
Hi! My name is Jahmar, and I am going to be a 2nd semester sophomore in the fall. My major is Cyber Security. I am mostly introverted but I am trying to become more social. My birthplace is Jamaica Queens, NY. Both of my parents are from Jamaica, Kingston. I am a Marvel fanatic; my favorite superhero is Spider-Man. I love learning about new things, and I am excited to gain new skills this summer. I cannot wait to meet you!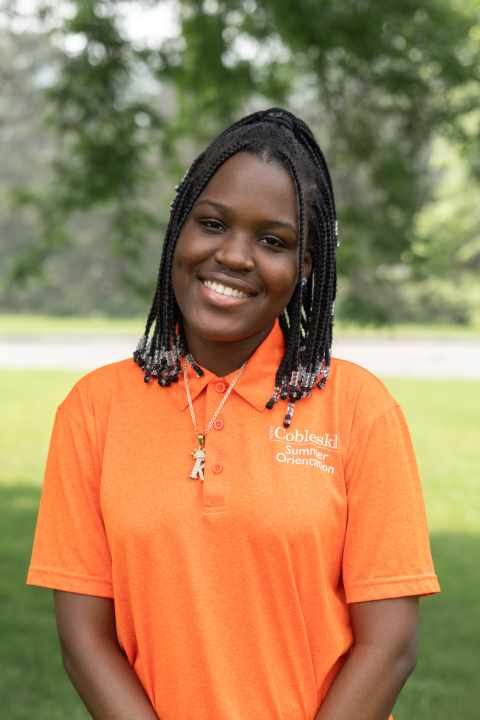 Lakeisha
Pronouns - She/her
Hello! My name is Lakeisha, and I am a junior here at SUNY Cobleskill. I am also a Senior Resident Assistant in Wieting Hall. I major in Communications of Technology with a minor in English of Writing. My favorite color is green. I also have a dog named Peanut on campus. Make sure to say hello next time I see you!
Kevin
Pronouns - He/him
Hello there! My name is Kevin! I was born and raised in northern New Jersey. I transferred from a community college to SUNY Cobleskill to complete my major in Communication of Technology. Since being at SUNY Cobleskill, I have been a part of Men's Basketball, a Resident Assistant, a member of the Student Athlete Advisory Committee, a member of Hall Council, and an Orientation Leader. We are so excited to have you here!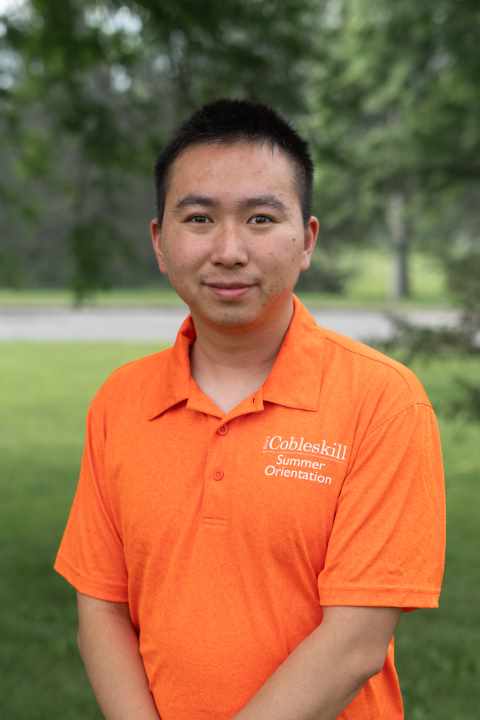 Youshan
Pronouns - He/him
Hello! My name is Youshan. I am a Wildlife Management major, and it is a pleasure to meet you! On the outside, I am a very social and outgoing person, but on the inside, I am very quiet and focused on the task at hand and can be very productive. I may seem goofy and childish on the outside, but I can also be very independent and mature as well. We are so excited to have you join the Coby family!
Ainsley
Pronouns - She/her
Hello there! My name is Ainsley! I am a Culinary Arts major, and my favorite color is purple. I am a slightly introverted yet fun person. I look forward to meeting many incoming students this summer. I'm hoping to help make this a fun and memorable experience for everyone. I look forward to meeting you!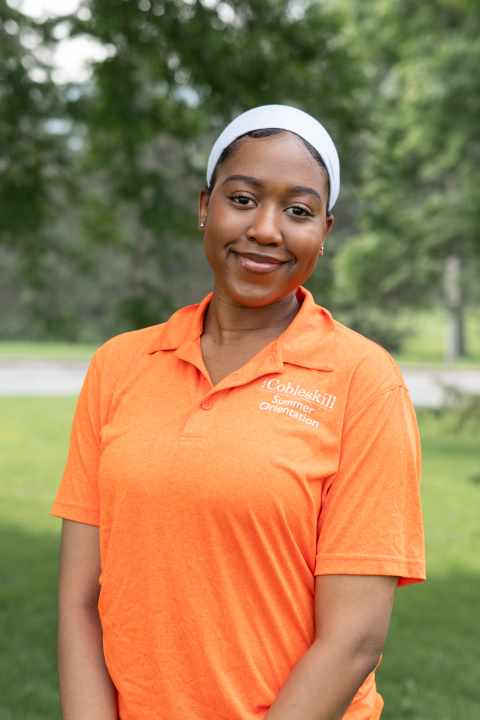 Deborah
Pronouns - She/her
Hey there! My name is Deborah, and I'm from the Bronx. My major is Animal Science B.S. I'm an active sister in Sigma Omega Epsilon Incorporated, and I am part of many clubs on campus, including the SUNY Coby ALCU and DEI Committee. I enjoy creating, whether it be crocheting, drawing, embroidery, sewing, etc. I love having deep conversations and falling asleep to YouTube videos. I am always looking forward to learning something new and meeting new people.
Keegan
Pronouns - He/him
Hello! My name is Keegan, and I am from a small town in Saratoga County called Schuylerville. It is about an hour and fifteen minutes east from here. I am an Animal Science BT major and I'm a second year. I'm a huge dog person and my favorite things to do here in Cobleskill are go for drives with my friends and watch the sunsets. You will probably see me at the barns a lot with the goats and sheep. I cannot wait to meet you!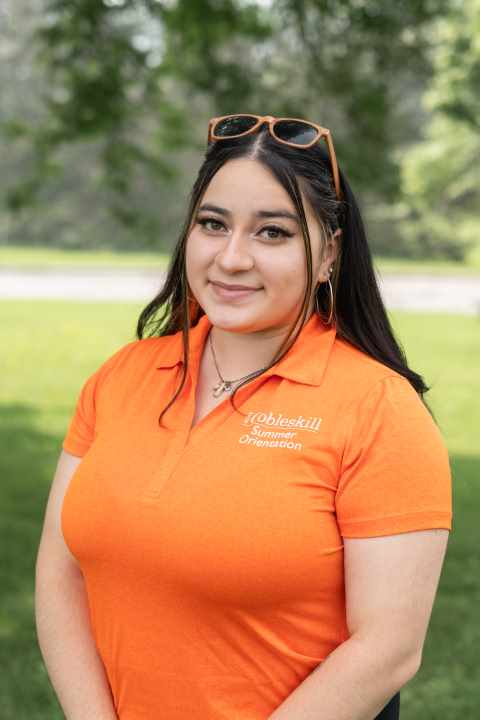 Annalise
Pronouns - She/her
Hello everyone! My name is Annalise. I am a dual-degree senior majoring in Canine Training and Management (BT) and Agricultural Business Management (BS). My minors are both Agricultural Education and Honors. As a student at Coby, I have been quite involved on campus! I was the Student Kennel Manager for our canine program, as well as a Resident Assistant in Parsons Hall and the Community Service Liaison for our Unity Center. I am currently the Senior Resident Assistant of Davis Hall, a Campus Engagement Leader, and the DEI Officer for our Student Government Association! I love Coby because of the relationships I have built with both staff and students on campus! During the semester, you can find me in Davis Hall, a First-Year Experience building where many of our incoming students will be residing! Please do not hesitate to say hi or reach out!
Be sure to keep checking your SUNY Cobleskill email for more information about Orientation, how to connect with your COBY Orientation leaders and for additional correspondences.
Orientation FAQs (Frequently Asked Questions)